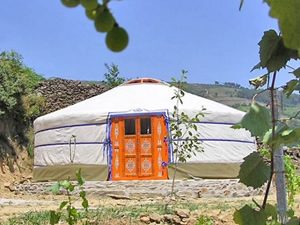 Yurts
The Yurts are placed on a platform of portuguese stones. They are situated between the grapevines and give views over the whole of the Douro valley at a height of about 425 metres. They are also situated near a lovely woodland and many walking trails. No cars in the area.
Campground
The 4 tent and 2 small camper spaces are spacious and free with your own hammock. The beautiful views and the simplicity and cosy atmosphere of our Quinta make it such a pleasure. In the evening especially, with the clear starry skies and quiet surroundings.
Bell tent
The Bell Tent is the ultimate dream tent for people who love camping, space and style. It was developed in the 19th century as a strong and practical army tent. The thick sand-coloured canvas material is airy,wind and waterproof. It is never clammy or stuffy inside which makes it very pleasant and light.